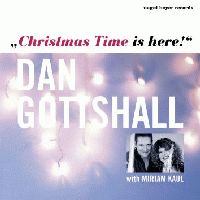 Nagel Heyer BSIN01718785
Gottshall, Dan / Kaul, Miriam - Christmas Time Is Here
Featuring Dan Gottshall (voc, tb), Miriam Kaul (saxes, fl) with Tim Murphy (p), Rolf Zielke (p), Geoff Harper (b), Darryl Taylor (b), Bernd Kuchenbecker (b), Tom Williams (dr), Kenny Martin (dr), Delores King Williams (voc), Tanja Siebert (voc), Thomas Loup (voc).
Recorded at Gizmo Studios, Silver Spring and Live at the A-Trane Jazz Club, Berlin.
Tracklisting:
1. Winter wonderland (4:26)
2. Santa Claus is hangin' round (5:57)
3. I'll be home for Christmas (4:52)
4. 'Zat You, Santa Claus? (7:08)
5. Santa Claus is coming to town (5:56)
6. O Tannenbaum (Traditional) (0:57)
7. Baby, It's Cold Outside (4:51)
8. I saw mommy kissing Santa Claus (3:16)
9. The Christmas song (4:43)
10. Deck the halls (2:23)
11. Christmas time is here (5:02)
12. Have yourself a merry little Christmas (6:05)
13. Rudolph, The Red-Nosed Reindeer (5:59)
Released 2007.
Price: 15,90 EUR