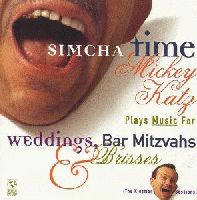 World Pacific BSIN01683883
Katz, Mickey - Simcha Time: Mickey Katz Plays Music for Weddings, Bar Mitzvahs and Brisses
Though he was perhaps the greatest exponent of klezmer in his day, or "Jewish jazz" as he called it, Mickey Katz was too modest to suggest such a thing.
Most contemporary practitioners of the genre (including Don Byron, who has done much to revive the bandleader's work in recent years) sound anemic by comparison with the full-bodied sound of Katz and his Kosher Jammers, who can be heard in all their glory on this compilation album. If the joyous, high-spirited sessions preserved here sound like a group of top-notch musicians having the time of their lives, it is no accident. The recording studio was very much a party atmosphere, complete with Jewish soul food courtesy of the nearest kosher deli.
And the sidemen -- including Benny Goodman's legendary trumpet player, Ziggy Elman; trumpeter Mannie Klein, one of the busiest sidemen on the West Coast; trombonist Si Zentner, pianist-arranger Nat Farber, and drummer Sammy Weiss, who brought the klezmer sound to Artie Shaw's orchestra -- were urged to pull out all the stops.ybrY Five previously unreleased tracks are included here, not to mention three selections from Katz's Broadway revue, Hello, Solly! That none of Katz's celebrated English-Yiddish parodies of 1950s pop songs appear on this Will Friedwald-produced compilation may be a blessing in disguise. The bandleader could be so wickedly funny -- machine-gunning the listener with wacky lyrics, outrageous bilingual puns and vocal effects leftover from his days with Spike Jones -- that the comedy sometimes obscured the brilliant musicianship on his now sought-after LPs. (Jordan R. Young)
Musicians:
Mickey Katz (clarinet, leader, vocals), Billy May (conductor), Ziggy Elman (trumpet), Earl Gaines (bass), Bob Bain (guitar), Si Zentner (trombone), Rafael Méndez (trumpet), Harold Diner (trombone), Benny Gill (violin), Jules Jacob (woodwind), Manny Klein (trumpet), Lou Raderman (violin), Ray Sherman (piano), Lou Singer (synthesizer, drums, xylophone), Champ Webb (woodwind), Vincent DeRosa (horn), Larry Breen (bass), Sam Weiss (drums), Morris Bercov (reeds, multiple reeds, woodwind), Nat Farber (piano), Harry Frohman (piano), Ralph Hansell (xylophone), Jack Hilliard (vocals), Terry Howard (woodwind), Frank Messina (accordion), Jack Rose (guitar), George W. Smith (reeds, multiple Reeds).
Tracklisting:
1. Simcha Time previously unreleased 2:13
2. Mazel Tov Dances 2:57
3. Grandma's Dreidel 2:36
4. Keneh Hora 2:04
5. Mendel's Song 3:07
6. Litvak Square Dance 2:24
7. Frailach Jamboree 2:47
8. Mamaliege Dance 2:09
9. Berele's Sherele 1:52
10. Trombonik Tanz 2:35
11. The Family Danced 2:19
12. Bar Mitzvah Special 2:48
13. The Wedding Dance 2:32
14. The Wedding Samba 2:38
15. Can Can Kazotski previously unreleased 1:54
16. Bublitchki previously unreleased 3:45
17. Fountainbleu Frailich previously unreleased 2:00
18. Yiddish Square Dance previously unreleased 2:35
19. Mickey's Mishegoss 2:56
20. Sunrise, Sunset 1:48
21. Yiddish Folk Melody 0:56
Recorded Dec. 20, 1950-1966
Released 1994.
Price: 20,90 EUR