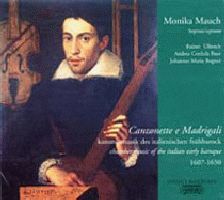 Musica Riservata BSIN01477518 (inkl. Booklet mit 66 Seiten)
Ullreich, Rainer / Mauch, Monika - Canzonette e Madrigali (Kammermusik des italienischen Frühbarock 1607 - 1650)
Composer: Biagio Marini, Andrea Falconiero, Biagio Marini, Gasparo Casati, Claudio Monteverdi, Gesualdo da Venosa, Giovanni Paolo Cima, Tarquinio Merula, Alessandro Piccinini, Felipe Sances
Monika Mauch (soprano), Rainer Ullreich (early Baroque violin), Andrea Cordula Baur (Baroque guitar and theorbo), Johannes Maria Bogner (harpsichord and organ).
This selection offers pieces for singer and small ensemble (either with an instrumental refrain or with a concertato violin part in a polyphonic style) and works for soprano with continuo. The wide variety of styles represented ranges from the dramatic works of Monteverdi and Merula to meditative church music and instrumental interludes.
Works by: B. Marini, A. Falconiero, G. Casati, C. Monteverdi, G. da Venosa, G. P. Cima, T. Merula, A. Piccinini and F. Sances.
Price: 17,90 EUR