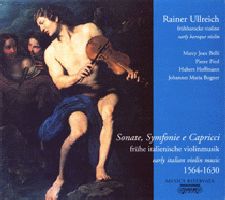 Musica Riservata BSIN01477241 (inkl. Booklet mit 70 Seiten)
Ullreich, Rainer - Sonate, Symfonie e Capricci (Frühe italienische Violinmusik 1564 - 1630)
Composer: Vincenzo Ruffo, Aurelio Virgiliano, Giovanni Francesco Anerio, Giovanni Giacomo Gastoldi, Andrea Cima, Giovanni Paolo Cima, Francesco Rognoni Taeggio, Biagio Marini, Girolamo Frescobaldi, O. Maria Grandi, Bartolomeo Mont' Albano, Gio. Battista Fontana
Rainer Ullreich (early Baroque violin), Marcy Jean Bölli (Renaissance alto viol), Pierre Pitzl (Renaissance bass viol and Baroque guitar), Hubert Hoffmann (Chitarrone), Johannes Maria Bogner (harpsichord and organ).
The first compositions written specifically for the violin; either solo, with a bass or in a small chamber music scoring. In addition to a few relatively famous works, the compilation offers some virtually unknown compositions handed down to us in early prints and manuscripts. The violin used in the recording is an authentic reconstruction of an A. and G. Amati with the typical short neck and the all-gut stringing of the period.
Works by: V. Ruffo, A. Virgiliano, G. G. Gastoldi, A.. and G. P. Cima, F. Rognoni, B. Marini, O. M. Grandi, B. Mont' Albano, G. B.. Fontana and others.
Price: 17,90 EUR