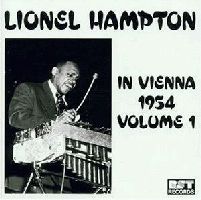 RST BSIN01045398
Hampton, Lionel - In Vienna, Volume 1 (1954)
Lionel Hampton – In Vienna 1954, Volume 2
In its December 1954 issue Germany's foremost jazz magazine "Jazz Podium" headed an article on Lionel Hampton's first concert in Vienna with the somehow euphoric title "Is Vienna going to be a Jazz center?" I admit that Vienna has not proved that so far but Hampton's concert of the 18th November, 1954 was the start of a series of concert performances in' Austria, anyway. Just a few weeks later (on December 25th, to be exact) Hamp played at Vienna's famous "Konzerthaus" again, and on December 27th the Hampton band gave a sensational concert in Graz, Austria which was recorded in its entirety by the Austrian Broadcasting Corporation; these recordings were recently issued on Swinghouse SWH 45 and SWH 54.
During the following years up to the mid-sixties almost any of the great American jazz musicians played in Austria's capital, among them Ella Fitzgerald, Oscar Peterson, Gene Krupa, Dizzy Gillespie, Roy Eldridge, Stan Kenton, Count Basie, Benny Goodman, Louis Armstrong, Duke Ellington, Miles Davis, John Coltrane, Nat King Cole, Quincy Jones, Stan Getz and - in regular intervals - Lionel Hampton. The local newspapers always took enthusiastic notice of Hampton's appearances although there were critical voices, too.
These two CD's (RST-91423 and RST-91424) Include most 01 Hampton's concert of November 18th, 1954. The music was recorded off the air by young engineer Ernest Cech on a "Stuzzi" tape recorder. Since official tapes are no more available Mr. Cech's 'recordings seem to be the only existing source of this great event. Enjoy listening!
Dietrich H. Kraner
Originalaufnahmen aus dem Archiv von Ing. ERNEST CECH
10 Tracks. Aufnahmedatum: 18. November 1954 im Konzerthaus, Wien.
Price: 13,50 EUR