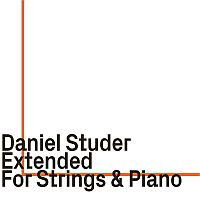 Ezz-thetics BSIN05006221
Studer, Daniel - Extended For Strings & Piano
Composer: Daniel Studer
Studer and his colleagues celebrate the dignity of work. It does not matter what you produce, whether it is rivets or cooking pots or the apparently slight "Bagatelles" or "verba 1" and "verba 2" of Extended. If these things are made well, then they are well done. One goes away from Extended reminded that string instruments, most often heard in massed ranks in orchestras or in formal quartets, quintets and upwards, are also capable of great freedom. Long before saxophones and trumpets were used, the first "jazz" groups were string ensembles, employed to entertain rich men but free after hours to explore their instruments, their tools, without restraint. Subsequent history has restored those tools, the means of production, to those that labour with heart and hand. The results extend our sense of what is possible in sound.
Harald Kimmig (violin), Farntz Loriot (viola), Alfred Zimmerlin (violoncello), Daniel Studer (bass), Philips Zoubek (piano)
Recorded live at Kunstraum Walcheturm in Zürich, Febuary 7, 2018.
Tracklist:
1. comprimere
2. Bagatelle 1
3. Bagatelle 2
4. Bagatelle 3
5. Operandi
6. Verba 1
7. Verba 2
8. Verba 3
9. Motus
Released 2019.
Price: 17,90 EUR