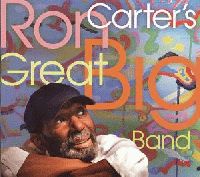 Sunnyside BSIN03801825
Carter, Ron - Ron Carter's Great Big Band
The legendary bassist Ron Carter had accomplished nearly everything a jazz musician could. He had appeared on thousands of recordings, performed with legends, and had led revered ensembles. One thing he hadn't done was led a big band. On the new CD Ron Carter's Great Big Band (Sunnyside, 2011), Carter finally got to be at the helm of 17 piece large ensemble. Assisted by arranger Bob Freedman and producer Wendy MacDonald, the ensemble took on an eclectic program of compositions by a handful of jazz masters, including Carter himself.
Feat. Jerry Dodgion, Scott Robinson, Wayne Escoffery, Charles Pillow, Mulgrew Miller, Steve Davis u.a.

Reviews:
,,Sein jüngster Coup - eine Big Band - trägt das Attribut ,,Great" zu Recht." (Stereo, August 2012)
Tracklist:
1. Caravan (3:40)
2. The Eternal Triangle (3:00)
3. Pork Chop (3:43)
4. Opus 1.5 (Theme For C.B.) (3:40)
5. Con alma (4:26)
6. Sail Away (4:20)
7. Opus One (3:30)
8. Sweet Emma (5:15)
9. Saint Louis Blues (4:29)
10. Line For Lyons (3:23)
11. Footprints (4:51)
12. The golden striker (3:56)
13. Loose Change (4:10)
Released 2012.
Price: 18,90 EUR