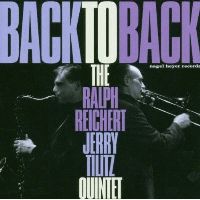 Nagel Heyer BSIN03746702
Reichert, Ralph / Tilitz, Jerry / Quintet - Back To Back
The Ralph Reichert / Jerry Tilitz Quintet
Ralph Reichert (tenor saxophone), Jerry Tilitz (trombone, vocals), Enno Dugnus (piano), Joachim Gerth (bass), Björn Lücker (drums)
Tracklisting:
1. Nik's Got The Knack (5:39)
2. Crazy Rhythm (5:40)
3. Lush Life (6:20)
4. Bajan Bacchanal (7:16)
5. Blues In The Closet (5:29)
6. Yesterdays (6:56)
7. Alfie (5:41)
8. Red, White And The Blues (6:53)
9. Nik's Got The Knack (alternate take) (6:22)
Recorded on January 27 to 30, 2002 at Birdland Jazzclub, Hamburg.
Released 2006.
This album is very much inspired by the famous recording ›At the Opera House‹ from Stan Getz and J. J. Johnson. To make a ballad album, like their mutual heroes in 1957, was a matter of heart, after saxophonist Ralph Reichert and tromboner Jerry Tilitz performed together nearly in an impromtu situation on the bandstand. They both felt very comfortable to dare start such a tender kind of project. The repertory is an all-time top selection: Crazy Rhythm, Blues in the Closet, Yesterdays, all three lend from the ›Opera House‹ album, plus Lush Life, Alfie and the three Tilitz originals Nik's got the Knack, Bajan Bacchanal and Red, White and the Blues. Besides the instrumental mastery of the two leaders, it is an opportunity to discover the gifted voice that Jerry Tilitz has.
Price: 16,90 EUR