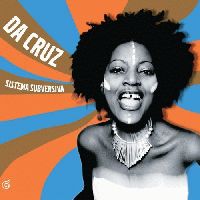 Six Degree BSIN03640888
Da Cruz - Sistema Subversiva
Editorial Reviews
The ensemble Da Cruz is a collaboration between vocalist Mariana Da Cruz (a Paulista with Bahian roots) and Swiss producer Ane H. Together with their band, they merge Brazilian music, Electro, Afro Beat, Breakbeats, Ethiopian Grooves, Kuduro and other forms of dance music.
Da Cruz stand for a modern, curious and proud Brazil , says Mariana. There are so many boring clich's about my country. With my music I try to show that there is a Brazil far away from Carnival, bikinis and samba-plumes there is also an urban, progressive, open but still romantic Brazil with a sane respect towards its traditions and culture.
The new album Sistema Subversiva pushes the boundaries of Brazilian Fusion with harder, throbbing bass tones and punchy kick drums underlying Mariana's dynamic lyrics, one moment soft and dripping, another punctuated and demanding. We both wanted to create something new without giving up all our past. Da Cruz is the result of this trying. Ane H sums it up best when he says We wanted to make a danceable album. An album that is both funky and electronic.
The music of Da Cruz is not sunny and nice and undisturbing. The African side is also accentuated, much tougher than what we have done before. We wanted to show that there is a Brazil far from the postcard idyll- a modern, rebellious, open and urban Brazil. The album has many, many facets.
Tracklisting:
1. Boom Boom Boom (3:48)
2. Jangada (4:42)
3. Curumin (6:24)
4. Papo De (3:21)
5. Zero A Zero (5:31)
6. Warm Leatherette (3:21)
7. Ethiopia (5:13)
8. Chega (2:49)
9. Tudo Bem Aqui (5:35)
10. Tschu Tschu (3:35)
11. Vestida De Amor (4:07)
12. Sexta - Feira (3:38)
13. Balada (4:32)
14. Falo Pouco (5:15)
15. Moça Feia (4:23)
16. Papo De (Filewile Remix) (3:24)
Released 2011.
Price: 16,90 EUR