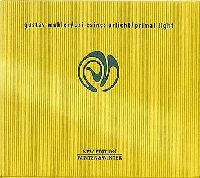 Winter BSIN03635902
Caine, Uri - Urlicht / Primal Light
Composer: Gustav Mahler
Joey Baron (drums), Aaron Bensoussan (cantor), Dave Binney (soprano sax), Danny Blume (guitar, electronics), Dean Bowman (vocals), Don Byron (clarinet), Uri Caine (piano), Dave Douglas (trumpet), Mark Feldman (violin), Michael Formanek (bass), Larry Gold (cello), Arto Lindsay (vocals), DJ Olive (turntables), Josh Roseman (trombone)
Compositions by Gustav Mahler adapted by Uri Caine.
Tracklisting:
1. Symphony No. 5: Funeral March (5:52)
2. The Drummer Boy From 'The Boy's Magic Horn' (5:45)
3. Now Will The Sun Rise As Brightly Fromhorn 'Songs Of The Death Of Children' (1:50)
4. I Often Think They Have Merely Gone Out 'Songs Of The Death Of Children' (3:33)
5. Symphony No. 1 'Titan'- 3rd Movement (12:02)
6. Symphony No. 2 'Resurrection'-Primal Light (2:31)
7. I Went Out This Morning Over The Countryside From 'Songs Of A Wayfarer' / Symphony No. 2 (6:54)
8. Symphony No. 5: Adagietto (10:35)
9. The Drunkard In Spring From 'The Song Of The Earth (7:50)
10. Who Thought Up This Song From 'The Boy'Smagic Horn (2:36)
11. The Farewell From 'The Song Of The Earth' (12:59)
Released 1997.

Uri Caine: Gustav Mahler - Primal Light
Contemporary adaptations of classical compositions are nothing new, as reflected in the countless recordings featuring canned arrangements of favorite works by Bach, Mozart, Vivaldi and other popular composers that flood today's music market. Unfortunately few contemporary artists are exploring new ways of interpreting the classical canon in a manner that goes beyond simple rhythmic modification.
In early 1995, the New York-based jazz pianist, composer and arranger Uri Caine was approached by German music producer Stefan Winter about adapting the music of Gustav Mahler for a documentary film Stefan Winter's brother Franz directed in 1993 and 1994. Caine was also asked to debut this music during a live performance accompanying a screening of Winter's film at the Knitting Factory with a group consisting of leading members of New York's creative music community. Caine accepted this commission immediately and enthusiastically and for an entire year intensively immersed himself in Mahler's life and music. He pored over scores, searching for themes and fragments he could assemble into new compositions drawing on nearly every style of contemporary music of our age jazz, Latin, fusion, funk, free jazz and New Music. The premiere performance of Caine's work was a critical and popular success and in May 1996, he entered the studio to record Gustav Mahler - Primal Light, a unique and original tribute to one of the most significant composers of our century.
Caine's homage to Mahler, who was born in 1860 and died in 1911, represented a tremendous challenge since the composer's works use established form of harmony and instrumentation to construct extremely personal themes inspired by the tragic events of his life. The complexity of Mahler's psyche and music is actually summed up by a simple sentence contained in a letter he wrote in 1886: "My whole life is just one tremendous yearning." These few words convey in the most compelling manner the tragedy that was Mahler's life. The phrase could also aptly describe the life of the Jewish people and their culture which has been historically linked with tremendous struggles, soul searching, deep grief, tortured loneliness and persecution while also containing a sense of humor often tinged with irony.
It is these elements which infuse Caine's arrangements and adaptations that make his Mahler project so remarkable. To help articulate his vision, the pianist assembled a veritable "Who's Who" of New York's avant garde scene including artists Don Byron (clarinet), Mark Feldman (violin), Dave Binney (saxophones), Danny Blume (guitar and tapes), Josh Roseman (trombone), Dean Bowman (vocals) and Larry Gold (cello) as well as the Jewish cantor Aaron Bensoussan. The performances on the CD cover the complete dynamic spectrum from quietly lyrical quintet passages to bombastic arrangements for large ensemble featuring both free and structured improvisations. "Every piece is another concept," Caine explained. "Some themes are taken note for note from the original while others like "Der Tamboursg'sell" (The Drummer Boy) consist of only a short phrase I took as the foundation upon which I built my own song. Still other sections I wrote are only based on the basic concept of Mahler's original composition."
Caine weds themes from Mahler's First, Second and Fifth Symphonies as well as of "Des Knaben Wunderhorn" ("The Youth's Magic Horn"), "Das Lied von der Erde" ("The Song of the Earth") and the "Kindertotenlieder" ("Songs of the Death of Children") with elements of hard bop, rock, Klezmer, samba, soul and funk. There's a passage from the third movement of Mahler's Symphony No. 1, the "Titan," that Caine turned into a mainstream jazz standard tune that he performs with a trio. Bassist Mike Formanek takes a line from that same section of the "Titan" and turns it into a funky groove accompanied by drummer Joey Baron. "Wer hat dies Lied erdacht" ("Who Thought Up This Song?") becomes a wonderful duet for Caine and trumpeter Dave Douglas that keeps changing from a waltz to free improvisation and back again. The harmonic structure of Mahler's song "Oft denk ich, sie sind nur ausgegangen!" ("I Often Think They Have Merely Gone Out!") has been transformed into a Bossa Nova over which singer Arto Lindsey recites the lyrics in his own inimitable style.
Uri Caine's Gustav Mahler - Primal Light is a modern masterpiece. The 11 tracks on the CD reveal him to be a worthy interpreter, adapter and inheritor of Mahler's legacy who has succeeded in creating a definitive recording that is a confident and original artistic statement full of surprises yet as close to Mahler's original concept as possible. One of the most in demand pianists on the current international scene and an artist equally at home performing everything from modern jazz to traditional jazz to new music, Uri Caine was born in Philadelphia. He began playing classical piano at age seven but did not display an interest in improvisational music until he was 13 and first heard the music of Miles Davis and John Coltrane. Then Caine immediately fell in love with jazz and began hanging out in Philadelphia jazz clubs listening to and jamming Philly Joe Jones, Hank Mobley, Mickey Roker, Grover Washington and other artists who passed through town instead of staying home and doing his schoolwork.
After graduating from high school, Caine continued his formal musical training at the University of Pennsylvania, where he received several awards for composition, before embarking on a career in jazz. He played piano in the bands of Freddie Hubbard, Clark Terry, Benny Golson, Donald Byrd, Lester Bowie, Phil Woods, Max Roach, Rashied Ali and Gary Thomas, among others, gaining invaluable experiences that contributed towards expanding his skills. Caine eventually made the obligatory move to New York where he knew he would find musicians who shared his creative drive and vision and began playing with Anthony Cox, Bob Moses, Marvin "Smitty" Smith, Tom Harrell, Don Byron, Ralph Peterson, Kevin Bruce Harris, Buddy DeFranco, Terry Gibbs and others. Caine made his recording debut as a leader in 1992 on Stefan Winter's label JMT Records with the release of Sphere Music, dedicated to the music of Thelonious Monk which he followed in 1995 with Toys, dedicated to the music of Herbie Hancock. With Gustav Mahler - Primal Light Caine makes his recording debut on the newly created label Winter & Winter.
Price: 18,50 EUR