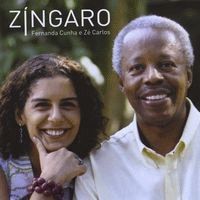 CID BSIN03635625
Cunha, Fernanda / Carlos, Zé - Zingaro
What is that sets Zíngaro apart? First and foremost, we have Fernanda Cunha's voice and performances. Add to that Zé Carlos' expertise and acoustic guitar excellence. Together, they deliver a fine album to honor the songs of two of Brazil's best composers.
Tracklisting:
1. Piano Na Mangueira (Tom Jobim e Chico Buarque) (3:26)
2. Anos Dourados (Tom Jobim e Chico Buarque) (5:34)
3. Pois E (Tom Jobim e Chico Buarque) (3:11)
4. Eu Te Amo (Tom Jobim e Chico Buarque) (5:01)
5. Olha Maria (Tom Jobim, Vinicius de Moraes e Chico Buarque) (4:14)
6. Retrato Em Branco E Preto (Tom Jobim e Chico Buarque) (5:00)
7. Imagina (Tom Jobim e Chico Buarque) (3:32)
8. A Violeira (Tom Jobim e Chico Buarque) (3:51)
9. Meninos Eu Vi (Tom Jobim e Chico Buarque) (4:37)
10. Sabiá (Tom Jobim e Chico Buarque) (5:37)
Released 2007.
Genre: Jazz: Bossa Nova

Album Notes:
Born into a musical family, Fernanda's mother is the renowned Brazilian singer Telma Costa, and her aunts renowned composers Sueli and Lisieux Costa. Following in these footsteps, Fernanda began her career as a singer in 1997, performing clubs in Rio de Janeiro with a trio.
Well established on today's Brazilian jazz scene, Fernanda made her US debut in 2000, performing in Cleveland, Ohio, with guitarist Michael Manderen (Director of Oberlin Conservatory). She also met American based ensemble Grupo Brasil, with Kip Reed (bass), Gary Aprile (guitar) and Matt Perko (drums), with whom she appeared at the Rock and Roll Hall of Fame, the Blossom Summer Festival, Shaker Jazz Fest, Nightown, and other major venues.
Cunha recorded her debut solo album O Tempo e o Lugar in 2002, featuring Brazilian pianist Marcio Hallack's arrangements and her American compatriots, Grupo Brasil. The album, released in Brazil, featured traditional Brazilian Samba and Bossa Nova feels and songs such as Djavan's Muito Obrigado, Velas Icadas (Ivan Lins, Vitor Martin) and Tim Tim Por Tim Tim (Haroldo Barbarosa).
In January, 2004, Fernanda released her tribute to two important figures in Brazilian composition, classic Bossa Nova master Johnny Alf, and her aunt, pop songwriter-singer Sueli Costa, both of whom make appearances on Dois Coraçőes (Two Hearts). The album features arrangements and performances by pianist Cristóvăo Bastos, Joăo Carlos Coutinho (piano, accordion), Camilia Dias (piano) and Jorjăo Carvalho (bass), along with Jurim Moreira (drums), Zé Carlos (acoustic guitar) and Marcelo Martins (sax) among others.
Fernanda first performed in Canada in 2005, appearing at the Yardbird Suite in Edmonton and Beat Niq in Calgary with pianist Ricardo Rito. She returned in 2007 to perform at the Edmonton and Vancouver jazz festivals. In 2008, she returns to Canada in support of her latest album, Zíngaro (2007) featuring guitar player Ze Carlos and the songs of Antonio Carlos Jobim and Chico Buarque.
Fernanda has toured in US, Canada, Portugal, Brazil, among other countries.
Price: 17,90 EUR