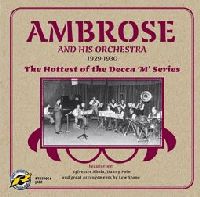 Retrieval BSIN03199904
Ambrose / And His Orchestra - The Hottest Of The Decca 'M' Series
Bert Ambrose
Born in London in 1896, the son of a middle-class wool merchant, Bert Ambrose learnt to play the violin as a child. He was taken to New York city by an aunt during the First World War and in 1917 secured work as a fiddle player in a band directed by Emil Coleman at Reisenweber's Restaurant, playing opposite the Original Dixieland Jazz Band. He then led his own dance bands in the city. Within a comparatively short space of time, Ambrose became well known and respected amongst New York's elite; one New York columnist reported that "Ambrose sets the fashion in American dance music". But in 1920, he received a telegram from London informing him that his mother was seriously ill, and so he returned home. Although his mother made a rapid and full recovery, Ambrose decided to stay on in London to lead a seven piece band at the Embassy Club in Bond Street.
In 1921, Ambrose returned to New York, ostensibly to search out American musicians for his Embassy band, but while there he was offered $200 a night to lead a band at the exclusive Clover Gardens club; the offer was too good to turn down, and so he stayed on in New York. The upset proprietor of the Embassy persuaded the Prince of Wales, a regular at the Embassy, to send a telegram to Ambrose. It simply read: "Bertram Ambrose Club Clover Gardens New York USA The Embassy needs you. Come back. Edward P". That more or less did the trick, and Ambrose duly returned to the Embassy.
The seven piece band Ambrose directed at the Embassy grew in size until, in 1926, it numbered some ten men. Recordings began in 1923, but it wasn't until 1927, when the Ambrose Orchestra recorded for Brunswick, that anything of interest to the jazz or hot dance music fan was issued. Then, in early 1928, Ambrose signed a contract with The Gramophone Company, owners of His Masters' Voice (HMV), the most famous and prestigious trademark in the industry. He stayed with HMV until November 1928, transferring to Decca early in 1929. One might question why, after securing a contract with the largest and most important recording company in the country, Ambrose should then decide to sign with the fledgling Decca company, an infant compared to HMV, and one that was not without teething troubles. The answer lies in the arrangement that Ambrose found himself contractually tied to at HMV.
Despite his exulted position on the bandstand at the May Fair, at HMV Ambrose had to play second fiddle (literally!) to Jack Hylton and his Orchestra, the company's number one dance band and the biggest earner in its popular music catalogue. Almost without exception, the most popular Songs of the day were offered to Hylton to record, while Ambrose had to pick the bones that remained. Little wonder that a man who could count the Prince of Wales as a personal friend found the situation intolerable; and so, when Decca offered Ambrose a red carpet into its recording studio, he gladly accepted.
Tracklisting:
1. A Precious Little Thing Called Love (2:44)
2. Mean to Me (2:56)
3. You're the Cream in My Coffee (3:12)
4. Do Something (3:13)
5. Sugar Is Back (2:52)
6. Walking With Susie (3:14)
7. Breakaway (3:08)
8. Louise (2:50)
9. Hittin' the Ceiling (3:15)
10. I'm Bring a Red, Red Rose (2:50)
11. Thou Swell (3:03)
12. Lovable and Sweet (2:43)
13. L-O-V-E (2:40)
14. If I Had a Talking Picture of You (2:55)
15. Miss Wonderful (3:22)
16. Painting the Clouds With Sunshine (3:03)
17. Tip-Toe Through the Tulips With Me (2:53)
18. I'll Be Getting Along (2:38)
19. Piccolo Pete (2:52)
20. Happy Days Are Here Again (3:03)
21. High and Low (2:53)
22. The One I Love Just Can't Be Bothered With Me (2:45)
23. I'm Following You (2:52)
24. I'm on a Diet of Love (2:50)
Recorded 1929-1930.
Released 2009.
Price: 14,90 EUR