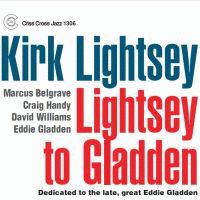 Criss Cross Jazz BSIN03055033
Lightsey, Kirk - Lightsey To Gladden
In 1990, when he recorded this scintillating date, now released for the first time, pianist Kirk Lightsey was one of New York's first-call pianists, a regular in the rotation at Bradley's, the legendary New York piano saloon, with the likes of John Hicks, Walter Davis, Jr., Tommy Flanagan, George Cables, and Roger Kellaway.
Here he convenes a cohort of New York A-listers --- trumpet giant and fellow Detroiter Marcus Belgrave; tenor saxophonist and flutist Craig Handy, then making his first impact on the scene; bassist David Williams, who could boast a decade's experience as Cedar Walton's bassist of choice; and drummer Eddie Gladden, Lightsey's bandmate with Dexter Gordon's group before --- to play a program that includes strong repertoire by Lightsey, Wayne Shorter, Detroit drummer Lawrence Williams, and choice standards.
Tracklisting:
1. Donkey Dust (Kirk Lightsey)
2. Number Nine (Lawrence Williams)
3. Everyday Politics (Craig Handy)
4. Wayne Shorter (Harold Danko)
5. Pinocchio (Wayne Shorter)
6. Moon (D. Durrah)
7. Working Together (Lawrence Williams)
8. Midnight Sun (Lionel Hampton)
Recorded January 3, 1991 in New York City, NY, USA by Max Bolleman.
Released 2008.
Price: 20,90 EUR