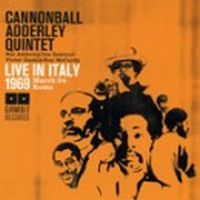 Gambit BSIN02966116
Adderley, Cannonball / Quintet - Live In Italy 1969
This release contains a rare 1969 Cannonball Aderley Quintet concert in Rome, first time ever on CD. As a bonus, there are some selections from a performance in Paris on 27th of March of the same year.
Rome, Italy, March 24, 1969, except bonus tracks (9 to 11), Salle Pleyel, Paris, France, March 27, 1969.
Cannonball Adderley Quintet: Julian "Cannonball" Adderley (as), Nat Adderley (ct & vc), Joe Zawinul (p), Victor Gaskin (b), Roy McCurdy (d)
Tracklisting:
1. The Scavenger
2. Sweet Emma
3. Ballad Medley
4. Dis Here
5. Manha De Carnival
6. Walk Tall
7. Experience In E (Allegro)
8. Walk Tall
9. The Blooz*
10. Mercy, Mercy, Mercy*
11. End Title*
Released 2008.
Price: 18,90 EUR