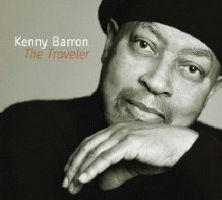 Emarcy BSIN02902406
Barron, Kenny - The Traveler
Piano master Kenny Barron returns with his most personal album for many years, following his virtuoso solo, duo and live exploration of his other recent recordings, The Traveller finds him in rhapsodic mood, making superb music with an array of top drawer singers and instrumentalists alike.
"The Traveler", in this sense, merely extends†and deepens the intuitions laid down by his predecessors. It is likely, however, that Kenny Barron never went as far as he does here in expressing a sort of elaborate aesthetic of understatement with a virtuosity that is paradoxical: he reaches the limits of eclipse.
Propelled by a new rhythm-section of extraordinary cohesion-alongside his loyal Japanese bassist Kiyoshi Kitagawa, the young Cuban drummer Francisco Mela explodes in every bar with inventiveness and elegance -, with "The Traveler" Kenny Barron offers us an album of ballads that are both timeless, so great is the sensation that we are plunging into the heart of the most authentic jazz, and subtly new, in the soft manner in which he slips imperceptibly between one mood and another, in a kind of fade-in fade-out of emotions and languages of the greatest diversity. Accompanied varyingly by soprano saxophonist Steve Wilson (a partner of Chick Corea in the group Origins, a musician of melody and intense lyricism), and by a galaxy of exceptional singers, both male and female.
All of whom cover the whole stylistic range of contemporary vocal jazz (from Greg Tate-suavely resuscitating the crooners' tradition of Nat King Cole and Johnny Hartman-to Gretchen Palato the new diva of New York jazz, whose sensual, softly-treading voice borrows from both the Afro-American tradition and Brazilian music, and Ann Hampton Callaway, a flamboyant stylist at the farthest reaches of jazz and great American pop), throughout this record Kenny Barron retreats behind his prestigious guests, letting his compositional talents and the lyrical dimension of his universe express themselves as perhaps never before. Because the songs Kenny Barron proposes here-except, perhaps, for his solo rendering of Eubie Blake's tune "Memories of You"-are genuine originals, songs of melody and melancholy in the great, magnificently reinvented tradition of the standards.
Rejoining him in the closing chapters of the record is the new guitar-prodigy Lionel Loueke (an extraordinary piano/guitar duo, totally improvised, marks the dramatic arrival of the music in another dimension). With all his senses on the alert, Barron allows the mood of the album to drift unnoticeably towards other, more sensually contemporary territories, thereby providing the finest example of the incredible adaptability that is still the heart of his genius: that unique way of allowing himself to be carried into the universe of the musicians he accompanies-and those accompanying him-while the music, not even for a moment, never ceases to belong to him.
Beneath its apparent eclecticism, The Traveler, finally, is perhaps the most personal, most accomplished record ever released by Kenny Barron. It is a masterpiece from a poet of ellipses and insinuation, and it brims with elegance and melancholy; without a doubt, in this decidedly lavish world, it opens out onto even more horizons.
Tracklisting:
1. The Traveler
2. Clouds
3. Speed Trap
4. Um Beijo
5. The First Year
6. Illusion
7. Duet
8. Phantoms
9. Calypso
10. Memories Of You
Kenny barron (piano), Kiyoshi Kitagawa (bass), Francisco Mela (drums), Steve Wilson (soprano sax), Greg Tate, Ann Hampton Callaway (vocals)
Released 2008.
Price: 18,50 EUR