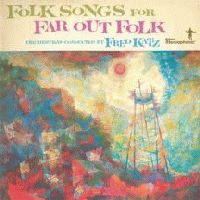 Reboot Stereophonic BSIN02815428
Katz, Fred - Folk Songs For Far Out Folk
The 1959 lost classic, Folk Songs for Far Out Folk by Jazz Innovator, Fred Katz, the gentleman who wrote the original score to Little Shop of Horrors, brought the cello to the forefront of the jazz repertoire as part of the legendary Chico Hamilton Quintet, and gave the world the ever-popular Sidney Poitier Reads Plato. Katz believed that jazz was born from "the roots of the people." The roots he explores here are American, Hebrew, and African folk songs, all reinterpreted by Katz for jazz orchestras. The Hebrew folk songs speak to Katz's own roots as the Brooklyn-born son of a kabbalist and communist dentist. Katz is joined by the legendary likes of saxophonist Paul Horn, flutist Buddy Collette, and pianist John Williams (years before he composed the score to Star Wars).
(Dave Wayne, Jazz Review)

"I'm open to anything," Katz says, "except music that's played badly." As such, he has agreed to release—through Reboot Stereophonic—some music played quite well: Folk Songs for Far Out Folk.

Personnel:
American Folk Tunes:
Motherless Child, Been In The Pen, Foggy, Foggy Dew, Old Paint
Gene Estes (vibes), Billy Bean (guitar), Johnny Williams (piano), Mel Pollen (bass), Jerry Williams (drums)

Hebrew Folk Tunes:
Baal Shem Tov, Rav's Nigun
Justin Gordon (bassoon and bass clarinet), Paul Horn (flute and alto sax), Buddy Collette (flute), Jules Jacobs (oboe and clarinet), George Smith (clarinet), Mel Pollen (bass)

African Folk Tunes:
Chili'lo, Manthi-ki, Mate'ka:
Pete Candoli, Irving Goodman, Don Fagerquist (trumpets), George Roberts, Harry Betts, Bob Enevoldsen (trombones), Larry Bunker, Gene Estes, Jack Constanzo, Carlos Mejia, Lou Singer (percussion)

Recorded July 21, August 19, September 17, 1958 Hollywood, Calif.
Released 2007.
Price: 17,90 EUR